"'Till Death Do Us Part" – Short Film Music

Synopsis
Harold's desire for living ended when his wife of 60 years   passed. All that he is left with is a dusty old house and fading memories. Can a   knock at the door from an unwelcome visitor change things around in time?
Created and Directed by Rick May
Original score by Yiannis Kranidiotis.
Some words about the film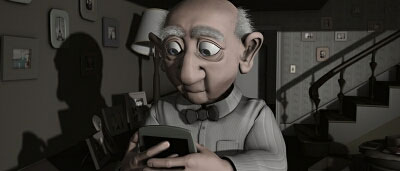 'Till Death Do Us Part (TDDUP) is a   12-minute CG animated short film that was completed on May 10th, 2007. It was a   pet project of Rick May that lasted more than 2 years of part-time and sometimes   full-time work. It was a pleasure and honor to compose the score for this inspiring  short film. Thank you Rick!
…As you may have guessed, this short film is not a comedy. I wanted to pick a   topic that was very emotional. I wanted to push myself beyond my usual work and   try to evoke sadness, happiness, and suspense. I wanted the viewer to really   feel some intense emotions. Hopefully I'll be successful.
Credits
Created and Directed by Rick   May
Traditional "Photo" Artwork by Catherine Satrun and Sarah Satrun
Music performed   and composed by Yiannis Kranidiotis
"Harold" character design by Seth Hippen
"Harold" CG head model by Ben Kilgore
Additional artwork help from Abel Salazar and Dylan Forman
Rendering assistance provided by RenderRocket