"My parents are trying to kill me" – Short Film Music

Synopsis
"My parents are trying to kill me" a short animated film by Nigel Wood, is about a paranoid kid called Bernard.
I am very happy that I will compose the music for this challenging short film.
Some words about the story…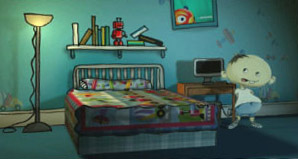 One day, on returning from a tedious day at school, Bernard overhears his parents talking. "We must get rid of it", cries his mother, "it will not do as its told" she squeals.
Bernard runs up the stairs to his room, jumps onto his bed and buries his head into the duvet.
After a few minutes of sobbing, Bernard sits up, reaches for his journal, opens it and scribbles his first entry: My parents are trying to kill me!
For Nigel Wood's portfolio and information on other animated projects visit:
www.therubberfish.com