Audiovisual Installation. 1ch HD video| 5ch sound. Dimension Variable.
Note: This video has very low frequencies that are essential. Please use an audio system that can reproduce  low-pitched audio frequencies. Built-in laptop speakers and basic desktop speakers are not recommended.
Synopsis:
Ichographs: Emerging soundscapes from visual forms.
"Ichographs I" is an audio and video artwork that explores the relationship between visual forms and audio by transforming colors into sound frequencies. The image is decomposed in the basic colors that have created it. Every color is a sonic frequency. A total 600 sine wave sound generators are recreating the image in the audio domain while we watch the color tessera come off the image and fly into space. By translating the color data into audible sound we are using famous paintings to create new sonic environments.
Taking as a starting point 9 famous paintings (and one imitation) we are experiencing unique sound colors and textures coming out of each one. Caravaggio's  dramatic use of light is transformed into a passage from single tone into frequency intensity.  The sound is following the complexity of colors and patterns of Pollock's drip technique and the reflections of light on the surface of Monet's water lily pool are producing a multicolor drone.
The paintings are: "Bathers at Asnieres" (1884) Georges Seurat, "Number 1A" (1948) Jackson Pollock, "Rouen Cathedral, West Facade" (1894) Claude Monet, "Powwow" (1969) Gene Davis, "Self-Portrait" (1889) Vincent van Gogh, "That" (1958) Kenneth Noland, "The Japanese Footbridge" (1899) Claude Monet, "Ohhh…Alright…" (1964) Roy Lichtenstein, "Portrait of Vincent van Gogh" (detail) (1925/1928) Imitator of Vincent van Gogh, "Salome with the Head of John the Baptist" (1609) Caravaggio.
The video frames were created using C++ and Cinder library while the sound generated in Pure Data.
Video is in 1080HD and the audio in 5.1 surround.
Festivals & Exhibitions:
•
SIMULTAN 2015 "TALKING TO STRANGERS"
, Timisoara, Romania (October 07, 2015)
•
AnimaSyros 8.0
, Ermoupoli, Greece (September 24, 2015)
•
Eufònic Festival
, Amposta , Spain (August 28, 2015)
•
Lumen Prize 2015 Online Gallery
, , (September 01, 2015)
•
21st International Symposium on Electronic Art (ISEA)
, Vancouver, Canada (August 14, 2015)
•
10th Athens ANIMFEST
, Athens, Greece (August 14, 2015)
•
CYBERFEST
, New York, United States (January 08, 2015)
•
MADATAC 06 – Festival of New Media Arts
, Madrid, Spain (December 10, 2014)
•
(h)ear XL II – Multimedia sound art exhibition
, Heerlen, Netherlands (September 26, 2014)
•
Universe in Your Pocket
, St Petersburg, Russia (October 20, 2014)
•
Life Science Film Festival 2014
, Prague, Czech Republic (October 13, 2014)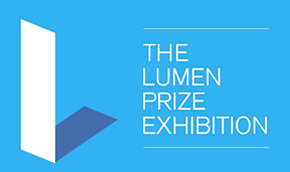 "Ichograph Triptych – Monet", a digital artwork derived from "Ichographs I" installation,
was shortlisted for the Lume Prize 2015.
Technical Information:
The project was divided in two parts; the visual and the audio.
The visual part was created in C++ using Cinder library with OpenCV and OSC blocks. The image is analyzed in 600 basic colors in HSV format. Each color corresponds to an audible frequency. Using a specific algorithm, the amplitude and the duration of each frequency is calculated. We can watch each color as a small tessera flying off the image. In its empty place, small dots create the spectrogram of the missing part of the image. The video frames are calculated in 1080 FullHD resolution.
The audio part has been created in Pure Data. Pure data receives the amplitudes and durations of every frequency and using a cosine wave oscillator for every frequency/color, it generates the soundscapes. A 5.1 surround format has been chosen in order to spread the sound generator across the corners of the room.
Photos:
>> Read about the digital art derived from "Ichographs I" installation.