Audiovisual Installation. 1ch HD video| 2ch sound. Dimension Variable.
Ichographs MdelP (Madonna del Prato) is a sound and picture artwork that explores the relationship between colors and sound frequencies. The famous painting of Raffaello "Madonna del Prato" ( Madonna of the Meadow) is decomposed into 10,000 cubic particles each carrying a frequency relevant to its color (HSV hue value). As we move around, we hear the sound of all these colors/frequency generator particles fly in the space towards the canvas to compose the painting. Warm colors (like red) are higher frequencies and cold colors (like blue) are lower frequencies.
Ichographs is a method of creating soundscapes using visual stimulus and the color-frequency transformation. The painting is transformed into the audio domain and back to visual producing a contemporary amalgamation. As we pass through the various color/frequency layers, we investigate the connections between classical aesthetics and the digital practice, revealing a latent version of the old masterpiece. The final artwork is a contemporary amalgamation of the old painting and the modern abstraction methods, a harmonious dialog between the old and the new, the analog and the digital.
Featured in:
Festivals & Exhibitions:
• CHEAPART Cyprus 2018, Limassol, Cyprus (May 11, 2018)
• WOW.08 / Venezuela, Caracas, Venezuela (October 21, 2017)
• 3rd TAF - Thessaloniki Animation Film Festival, Thessaloniki, Greece (October 19, 2017)
• The Muses Project @ Chania Museum of Contemporary Art, Chania, Greece (July 08, 2017)
• FILE 2017, Sao Paulo, Brazil (July 01, 2017)
• The Muses Project, Athens, Greece (February 08, 2017)
• MADATAC 08 – Festival of New Media Arts, Madrid, Spain (January 12, 2017)
• MozFest 2016, London , United Kingdom (October 28, 2016)
• AnimaSyros 9.0, Syros, Greece (September 21, 2016)
• GENERATE!° LAB, Tübingen, Germany (May 28, 2016)
• backup_festival, Weimar, Germany (May 18, 2016)
• Creative Tech Week, Brooklyn, United States (April 30, 2016)
Stills
Photos from Veranstaltungen der Shedhalle Tübingen GENERATE!° lab at Tübingen, Germany, where "Ichographs MdelP" was presented.
Technical Information
"Ichographs MdelP"was created using Open Frameworks and Pure Data. The image was divided into 10,000 pieces. Each piece was assigned a frequency depending on its color and more specifically its HSV hue value. Warm colors (like red) are higher frequencies (up to 800Hz) and cold colors (like blue) are lower frequencies (down to 50Hz). Other properties of the color like the saturation and the value (again in HSV color representation) are used for defining the dimensions, the position and the speed of the particle.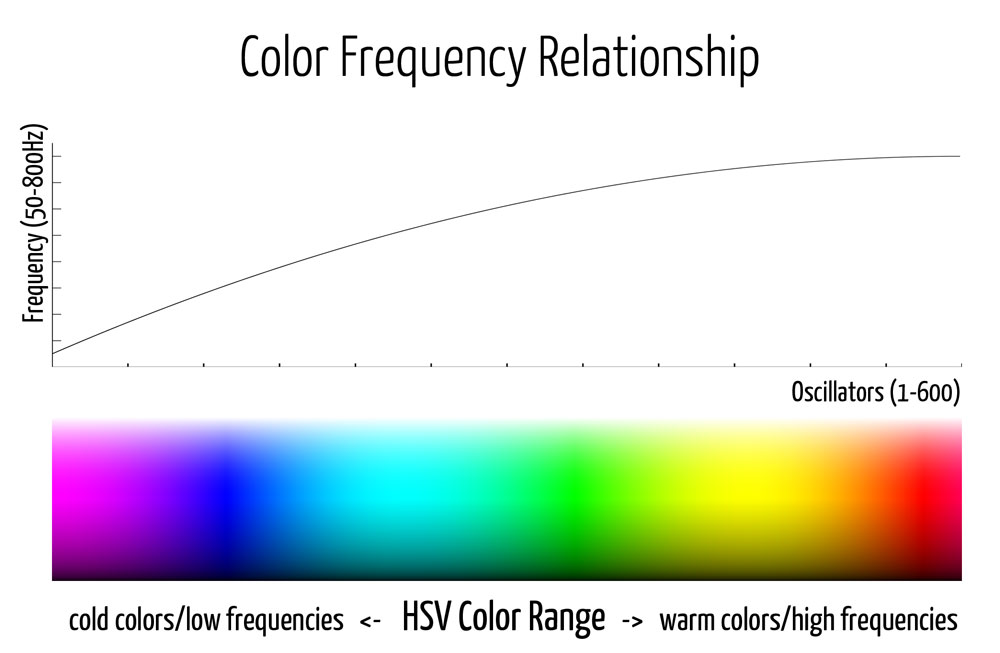 As the camera moves around we hear the sound that all these 10,000 moving colors/frequency generators are producing. The loudness of each particle is proportional to the distance from viewer. As a result, when we pass over over Madonna's scarlet dress, we hear the high "red" frequencies; conversely, as it scans fragments of the blue sky, we start hearing the low "blue" frequencies. All the sound data(sound amplitudes) were sent via OSC to a Pure Data  patch with a set of 600 sine-wave generators for producing the sound.