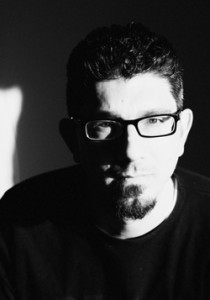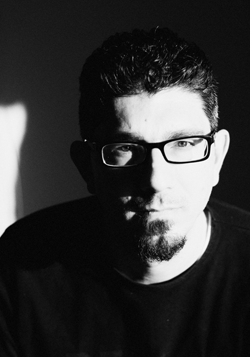 Yiannis Kranidiotis is new media artist and musician whose work explores the inseparable relationship between science and art, using mainly light and sound to create spaces and experiences where both coexist and interact. This requires a cross-disciplinary work with sound, visual arts, coding, electronics and physics.
His work has been presented in many festivals and exhibitions like Maintenant (Reenes, France), SPECTRA (Aberdeen,UK), Made in NY Media Center (New York), FILE (Sao Paulo, Brazil), B-Seite Festival (Germany), Rome Media Festival, ISEA (2016 Hong Kong, 2015 Vancouver), MADATAC (Madrid), Lumen Prize Global Tour,  Athens Digital Arts Festival, Onassis Cultural Center (Athens), LUNDA Gallery (St. Petersburg, Russia). Many websites and magazines have published articles about his work including "Google Cultural Institute", "The Creators Project", "Arduino.org", "Gizmodo",  "Open Culture", "Hyperallergic", "Bigthink" and "Konstvärlden".  He has also composed music for short films and theatre.
He has a BS in Physics from University of Partas and M.Sc. in Optics from Essex University.
Awards
· Special Jury Award MADATAC 2017
· Special Price of Kinetica Museum London
· Lumen Prize Short List
· Aesthetica Art Prize Long List
Residencies
· ENLIGHT Project – MIRIAD at the Manchester School of Art (UK)
· Soundscapes Landscapes II (MEDEA Electronic / Onassis Cultural Center)
Talks
· 'Science & Art' at EESAB School of Fine Arts. (October 2017)
· Artist talk at Athens Digital Arts Festival about the relation of art and science in my work. (May 2017)
· Presentation of my works to Rome University of Fine Arts students at Accademia di Belle Arti di Roma (April 2017)
· Talk about my interactive installation «9 months_Rebirth» and ENLIGHT Project at SPECTRA Catalyst Conference 2017, Aberdeen UK. (Feb 2017)
· 'Interactive works' at School of Art of Manchester Metropolitan University (Nov 2016)
· Presentation of my interactive installation "Color Tubes" to students of primary schools in distant and inaccessible · areas of the country as part of the program "Άγονη Γραμμή, Γόνιμη" (Nov 2015)
· 'Colour Tubes' International Computer Music Association and Sound & Music Computing Conference 2014, Onassis Cultural Center (Sept 2014)
Festivals & Exhibitions:
• ICT Experiential Park, Kallithea , Greece (February 09, 2018)
• SPECTRA 2018, Aberdeen, United Kingdom (February 08, 2018)
• Medea Electronique - Extended Reality Tour, Athens, Greece (February 01, 2018)
• FLight Firenze 2017, Florence, Italy (December 08, 2017)
• Oddstream 2017, Arnhem, Netherlands (October 27, 2017)
• ENLIGHTEN Bury Festival of Light and Sound, Bury, United Kingdom (October 20, 2017)
• 3rd TAF - Thessaloniki Animation Film Festival, Thessaloniki, Greece (October 19, 2017)
• Maintenant 2017, Reenes, France (October 10, 2017)
• 4th HMO International HerMa Conference, Elefsina, Greece (September 22, 2017)
• The Muses Project @ Chania Museum of Contemporary Art, Chania, Greece (July 08, 2017)
• FILE 2017, Sao Paulo, Brazil (July 01, 2017)
• Athens Digital Arts Festival 2017, Athina , Greece (May 18, 2017)
• Rome Media Art Festival 2017, Rome, Italy (April 27, 2017)
• Riders on the Mall (ROM), Budapest, Hungary (March 30, 2017)
• #PostFuture Journey, Athens International Airport, Spata, Greece (March 08, 2017)
• SPECTRA 2017, Aberdeen, United Kingdom (February 09, 2017)
• The Muses Project, Athens, Greece (February 08, 2017)
• MADATAC 08 – Festival of New Media Arts, Madrid, Spain (January 12, 2017)
• Caerphilly Castle, Lumen Prize Global Tour, Caerphilly , United Kingdom (November 23, 2016)
• The Winns Gallery, London, London, United Kingdom (November 16, 2016)
• MozFest 2016, London , United Kingdom (October 28, 2016)
• 2016-17 Lumen Prize Winners' Gala, London, London, United Kingdom (September 29, 2016)
• AnimaSyros 9.0, Syros, Greece (September 21, 2016)
• GENERATE!° LAB, Tübingen, Germany (May 28, 2016)
• backup_festival, Weimar, Germany (May 18, 2016)
• 22nd International Symposium on Electronic Art ISEA2016, Kowloon Tong, Hong Kong (May 16, 2016)
• Creative Tech Week, Brooklyn, United States (April 30, 2016)
• Bnl Media Art Festival, Rome, Italy (April 13, 2016)
• «Δικό μου» a piece of space, Athens, Greece (March 16, 2016)
• B-Seite Festival, Mannheim , Germany (March 12, 2016)
• Energy for Life, Athens, Greece (December 07, 2015)
• "Invisible Cities" exhibition, Athens, Greece (October 23, 2015)
• SIMULTAN 2015 "TALKING TO STRANGERS", Timisoara, Romania (October 07, 2015)
• AnimaSyros 8.0, Syros, Greece (September 24, 2015)
• Lumen Prize 2015 Online Gallery, , (September 01, 2015)
• Eufònic Festival, Amposta , Spain (August 28, 2015)
• 21st International Symposium on Electronic Art (ISEA), Vancouver, Canada (August 14, 2015)
• 10th Athens ANIMFEST, Athens, Greece (August 14, 2015)
• Athens Digital Arts Festival 2015, Athens, Greece (May 21, 2015)
• Art & Science, Athens Science Festival 2015, Athens, Greece (March 17, 2015)
• CYBERFEST, New York, United States (January 08, 2015)
• MADATAC 06 – Festival of New Media Arts, Madrid, Spain (December 10, 2014)
• Universe in Your Pocket, St Petersburg, Russia (October 20, 2014)
• Life Science Film Festival 2014, Prague, Czech Republic (October 13, 2014)
• (h)ear XL II – Multimedia sound art exhibition, Heerlen, Netherlands (September 26, 2014)
• International Computer Music Association and Sound & Music Computing 2014 Conference, Athens, Greece (September 14, 2014)